In certain ways, healthcare utilization and spending are bound to be high during a pandemic. Indeed, the cost of a hospital admission for patients with COVID-19, the disease caused by coronavirus, can top tens of thousands of dollars, and there have been over a hundred thousand hospitalizations just in the early months of the pandemic. Eventually, there may be other new costs, for example, if an effective pharmaceutical treatment is identified or a hopeful vaccine becomes widely available.
However, social distancing measures, concerns over hospital capacity, and fears of contracting the virus are leading to some other healthcare being delayed or forgone. For example, providers have delayed elective surgeries during the pandemic, thus having a downward effect on health costs, at least in the short term. In other cases, patients themselves may be reluctant to seek care. As social distancing measures are relaxed and the economy reopens, there may be pent-up demand for many of these services, though in some cases patients may never return for care that was canceled. On net, it is not yet clear how these upward and downward cost pressures will balance out in 2020 and 2021.
In this chart collection, we summarize what we know so far about how health costs and utilization have changed during the pandemic. This builds on other work we have done looking at the potential cost of treating coronavirus hospitalizations and a brief explaining the factors driving costs higher or lower and particular considerations for private insurers, Medicare, and Medicaid. Taken together, these data show there has been an abrupt and sizable decrease in healthcare utilization, at least in the early months of the pandemic. The exception has been telehealth, which has experienced an increase; however, the increase so far in telehealth was not enough to offset the decrease in in-person office visits. Some of the most recently available data suggest some healthcare utilization began picking back up in late April or early May.
An inpatient admission for COVID-19 treatment could top tens of thousands of dollars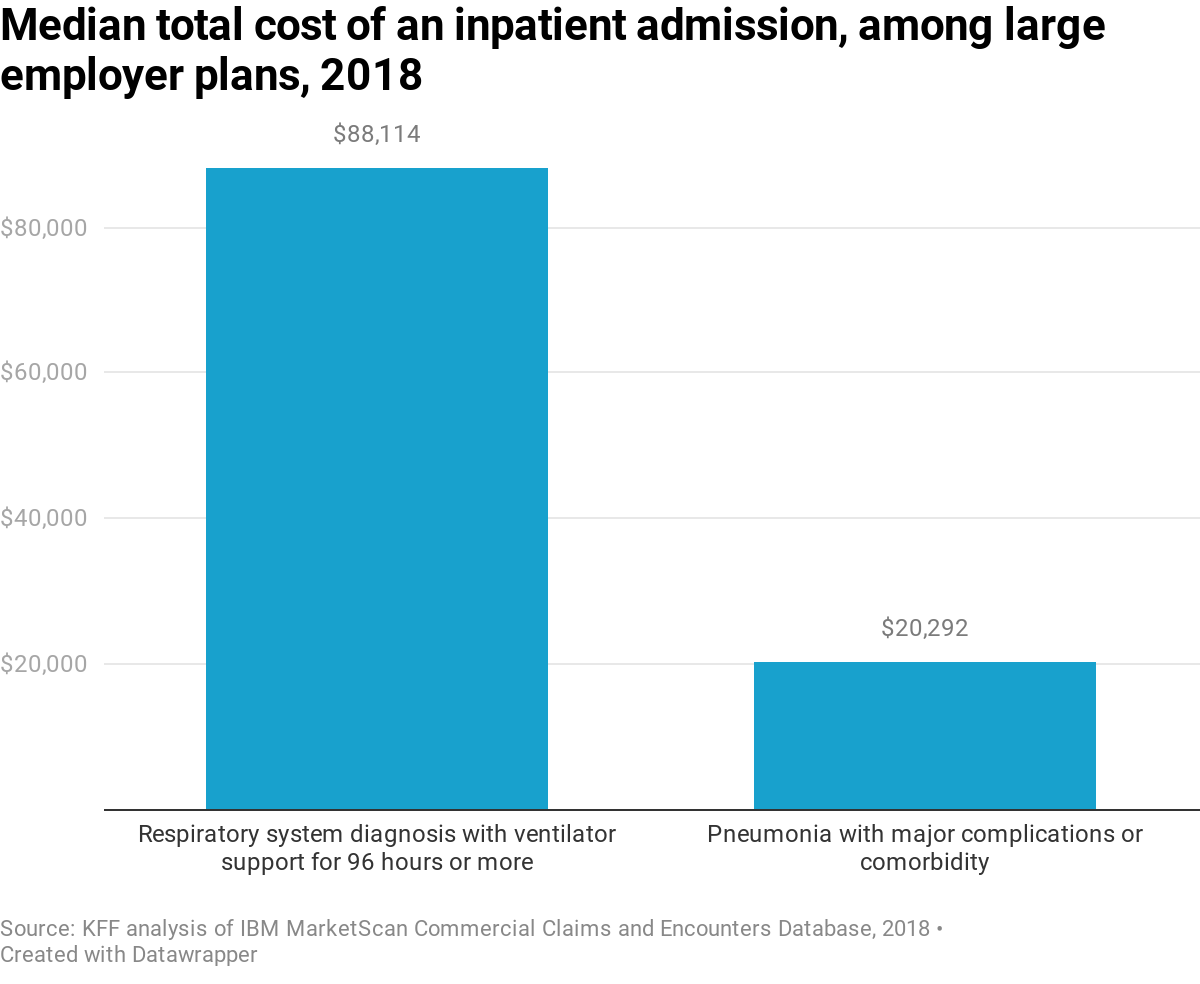 ---
Costs for COVID-19 treatment are likely to be significant for insurers and patients. Based on an analysis of spending by large employer plans for respiratory diagnoses, we found hospitalization costs exceed $20,000 for pneumonia patients with complications and more than $80,000 for patients with the most serious respiratory conditions that required ventilator support. For people with employer coverage, most of these costs would be paid by the plan, but out-of-pocket costs could exceed $1,300.
Elective procedures, many of which have been postponed during shelter-in-place, are typically a substantial share of spending at hospitals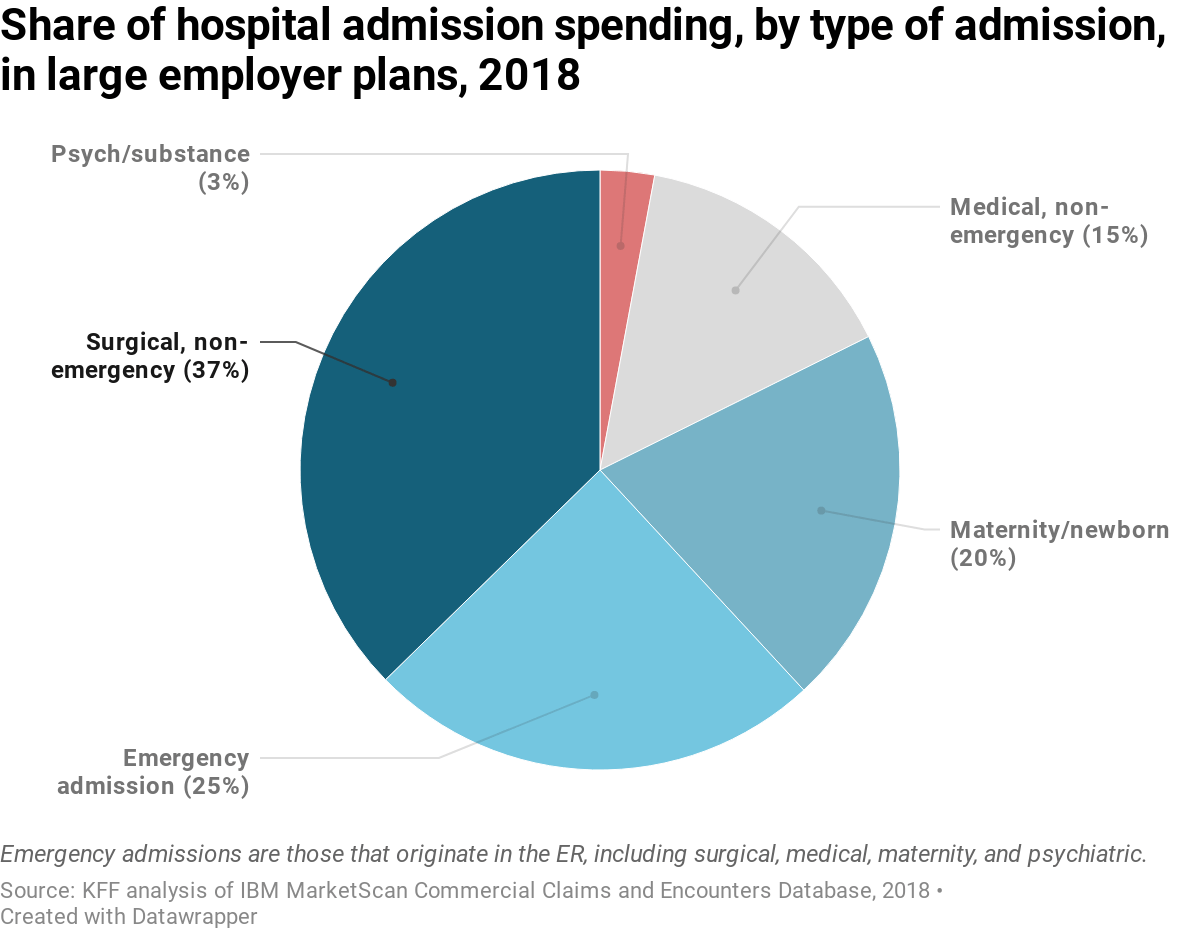 ---
Definitions of elective care vary, but generally refer to any care that is not urgent, but many elective procedures are nonetheless lifesaving or can significantly improve quality of life. Many hospitals across the country cancelled or postponed elective surgeries to allow more capacity for treating COVID-19 patients. Additionally, some other types of hospitalizations were also likely avoided or delayed beyond just surgical procedures.
To understand the potential impact of delayed and forgone care and considerations insurers face in setting premiums for next year, we analyzed claims data from non-elderly enrollees of large employer plans. In 2018, 37% of hospital admission spending by large employer plans was on surgical procedures that did not originate in the emergency room, some of which may be delayed or forgone. Many of these admissions are nonetheless time-sensitive and life-saving.
Overall, spending on health services was relatively flat in the first quarter of 2020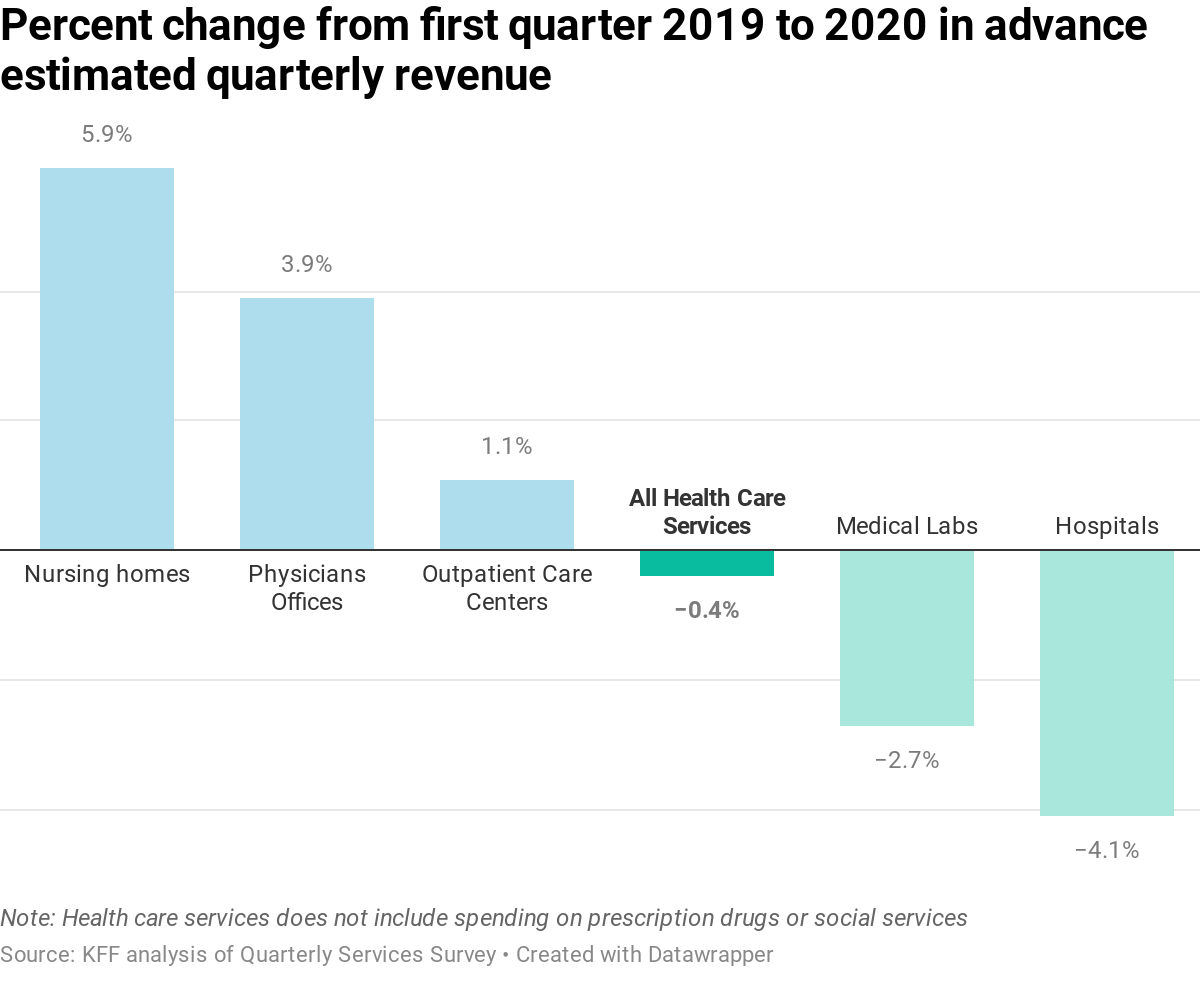 ---
In the first quarter of 2020 (January through March), spending on health services was relatively flat overall. Across all health care services, which excludes prescription drugs and social services, spending was down about -0.4% relative to the first quarter of 2019. Spending was up on nursing homes (5.9%), physician offices (3.9%), outpatient care centers (1.1%), but spending on medical labs (-2.7%) and hospitals (-4.1%) was down in the first quarter of 2020 compared to last year. As shown in the subsequent charts, these first quarter numbers do not reflect the full extent of the pandemic. January and February were closer to normal experience, before more extreme social distancing measures were taken in March. Other data shown in the next chart suggest most areas of health spending dropped sharply in March. Some of the most recent data suggests health spending may have begun rebounding a bit in late April and early May.
Spending on health services dropped sharply in March and April 2020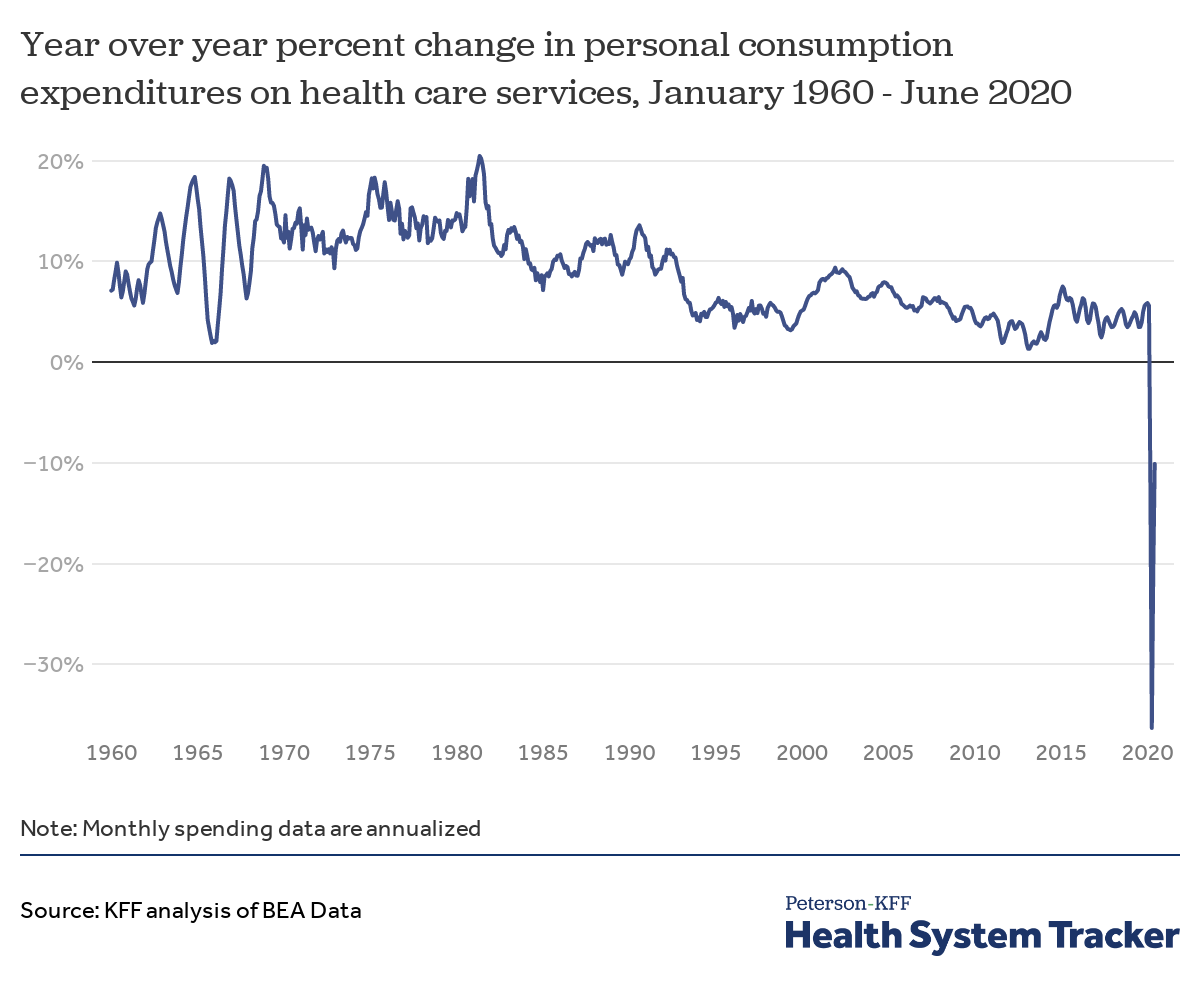 ---
Spending on health services dropped sharply in the spring of 2020 compared to the previous year, according to personal consumption expenditure data from the Bureau of Economic Analysis. Across all healthcare services, not including pharmaceutical drugs, expenditures were down -38% in April 2020 compared to April 2019. Spending has started to climb back towards pre-pandemic levels since bottoming-out in April, but expenditures on health services remained 10% lower in June 2020 than in June of last year.
Spending dropped sharply for dental offices, physician services, and hospitals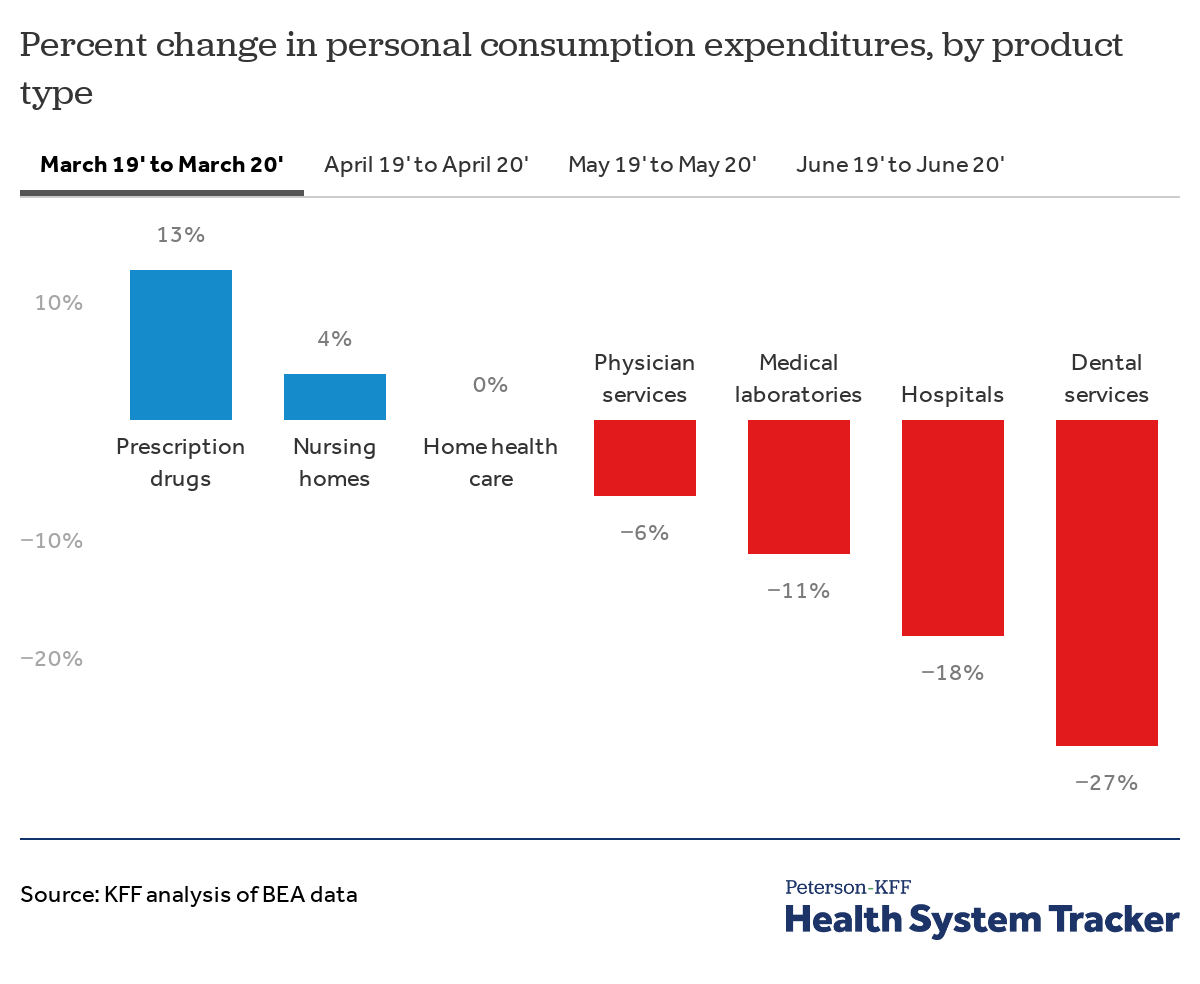 ---
Decreases in health spending began for most services in March, but the drop in spending in April was particularly sharp for dental services (-61%), hospitals (-43%), and physician offices (-37%). Spending in these service categories rose somewhat in May and June, and employment in these settings also ticked back up, but dental services and hospitals remain the two categories in which spending is most depressed relative to June 2020. Nursing homes were the only service category which saw larger decreases in expenditures in May (-11%) and June (-12%) than in April (-3%). Personal consumption expenditures on prescription drugs have continued to grow throughout the pandemic.
Many hospitals lost revenue in March, amid social distancing measures and cancellations of elective procedures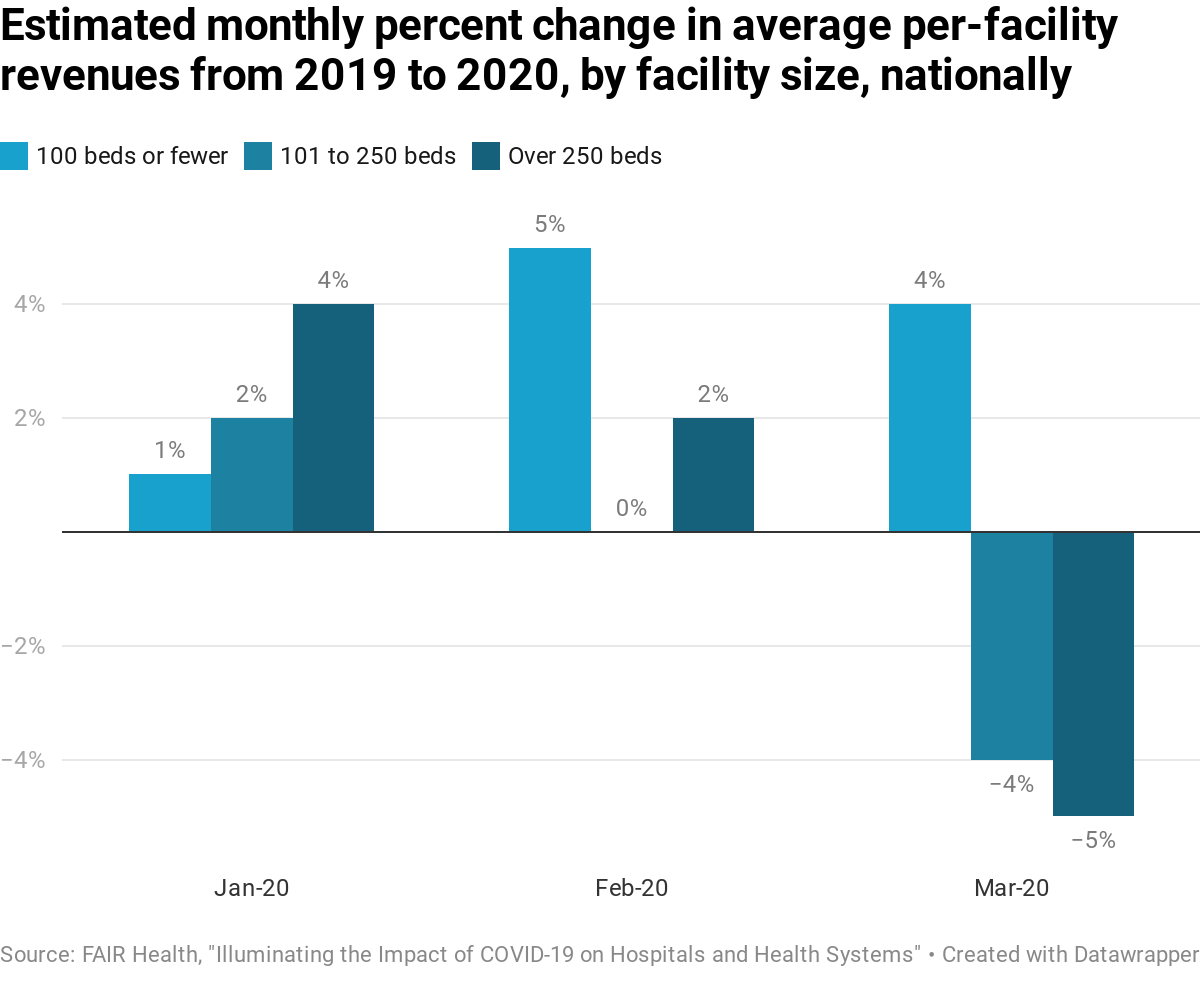 ---
Following social distancing efforts and cancellations of elective procedures in March 2020, many hospitals began losing revenue. FAIR Health analyzed private insurance claims submitted by hospitals and health systems from January through March of 2020 to the same time period in 2019, finding that nationally, midsize and large facilities began seeing a decrease in revenues in March. On average, hospitals in the northeastern U.S. (including small hospitals) saw sharper drops in revenue during March, according to the analysis. As discussed below, there are some indications that health care utilization may have begun to pick back up in late April and early May.
Private insurance claims show facility discharges dropped substantially starting in March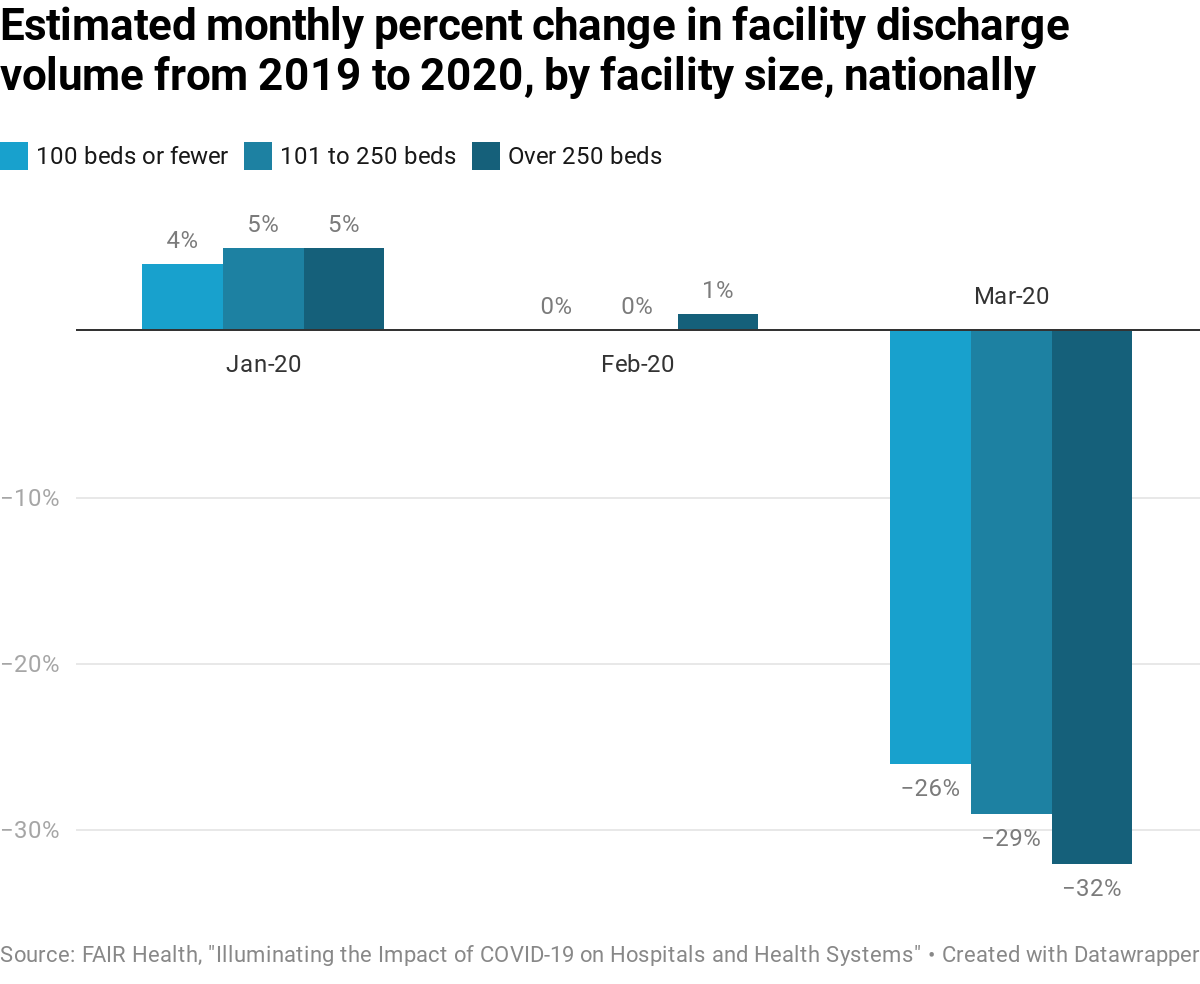 ---
FAIR Health also reports a national decrease from March 2019 to March 2020 in the volume of discharges from hospitals and other facilities, indicating a decrease in overall utilization across inpatient care, outpatient care (including labs), and emergency room services.
Telemedicine use increased sharply in the early weeks of the pandemic, but not enough to offset decreases in in-person office visits
---
Although most employer health plans cover telemedicine services, our analysis found that telemedicine uptake before the coronavirus pandemic remained low. In 2018, 2.4% of large group enrollees who had an outpatient office visit had at least one telemedicine visit. 
However, with social distancing orders, changes to provider payment for telehealth, and recommendations to call ahead to providers, telemedicine use has increased with the pandemic. Data from IQVIA, FAIR Health, and CVS Health all show sharp increases in telemedicine use relative to the period before the pandemic.
Another analysis by Epic Health Research Network found a 300-fold increase in telemedicine use when comparing data from March 15, 2019-April 14, 2019 with data from March 15, 2020-April 14, 2020. About half of adult patient appointments were managed with telemedicine instead of in-office from mid-March to mid-April, across all age groups (pediatric visits continued to be managed more in-person than through telemedicine). Notably, the Epic study found that the increase in telemedicine services was not enough to offset steep drops in in-person visits.
Private insurers report sharp drops in utilization in April 2020 relative to last year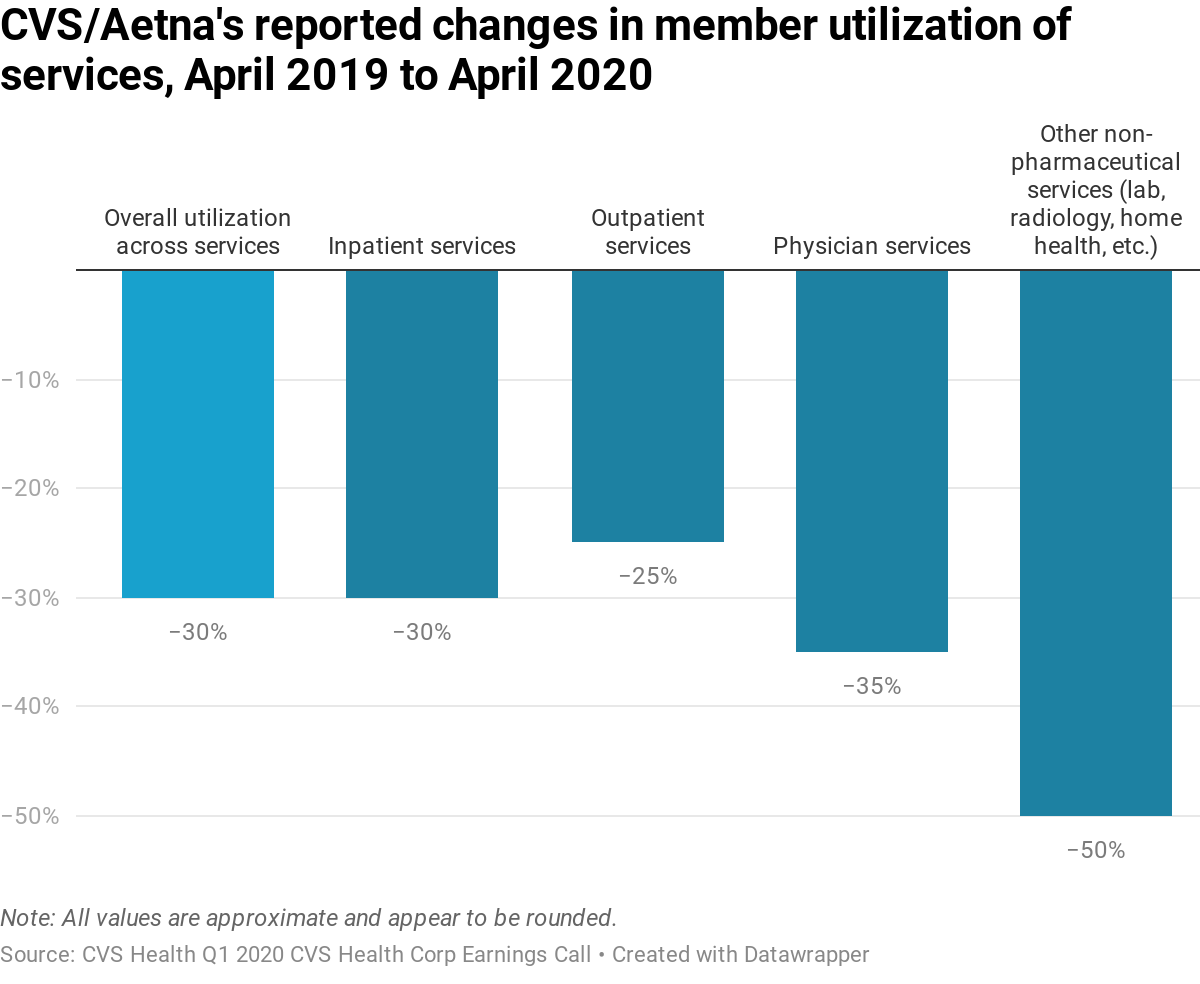 ---
Publicly traded private insurers held their first quarter earnings calls in early May, providing an early glimpse into how healthcare spending and utilization have changed during the pandemic. The first quarter of 2020, included just the beginning of the coronavirus pandemic, so some insurers focused on their April experience to give investors a picture of how their costs were changing due to COVID-19. 
CVS Health, which includes Aetna health insurance, said that early data from April suggested utilization was down about 30% overall relative to the previous year. This included a drop of over 30% in inpatient utilization, about 25% in outpatient care, 35% in physician services, and almost 50% for their lab, radiology, and home health kinds of services.
Similarly, Molina's first quarter earnings call noted a 30-50% drop in pre-authorization requests for outpatient surgeries in April 2020, depending on the location. Diagnostic testing and imaging were also down 40-45% in April.
In several first quarter earnings calls, insurers cautioned that this drop in utilization early in the pandemic would not necessarily continue in the long run. In an analysis of data through early May, IQVIA notes that lab tests done in offices were beginning to increase, suggesting health service utilization may be picking up.
As of late April, the total number of filled prescriptions was down compared to January and February, but was showing signs of rebounding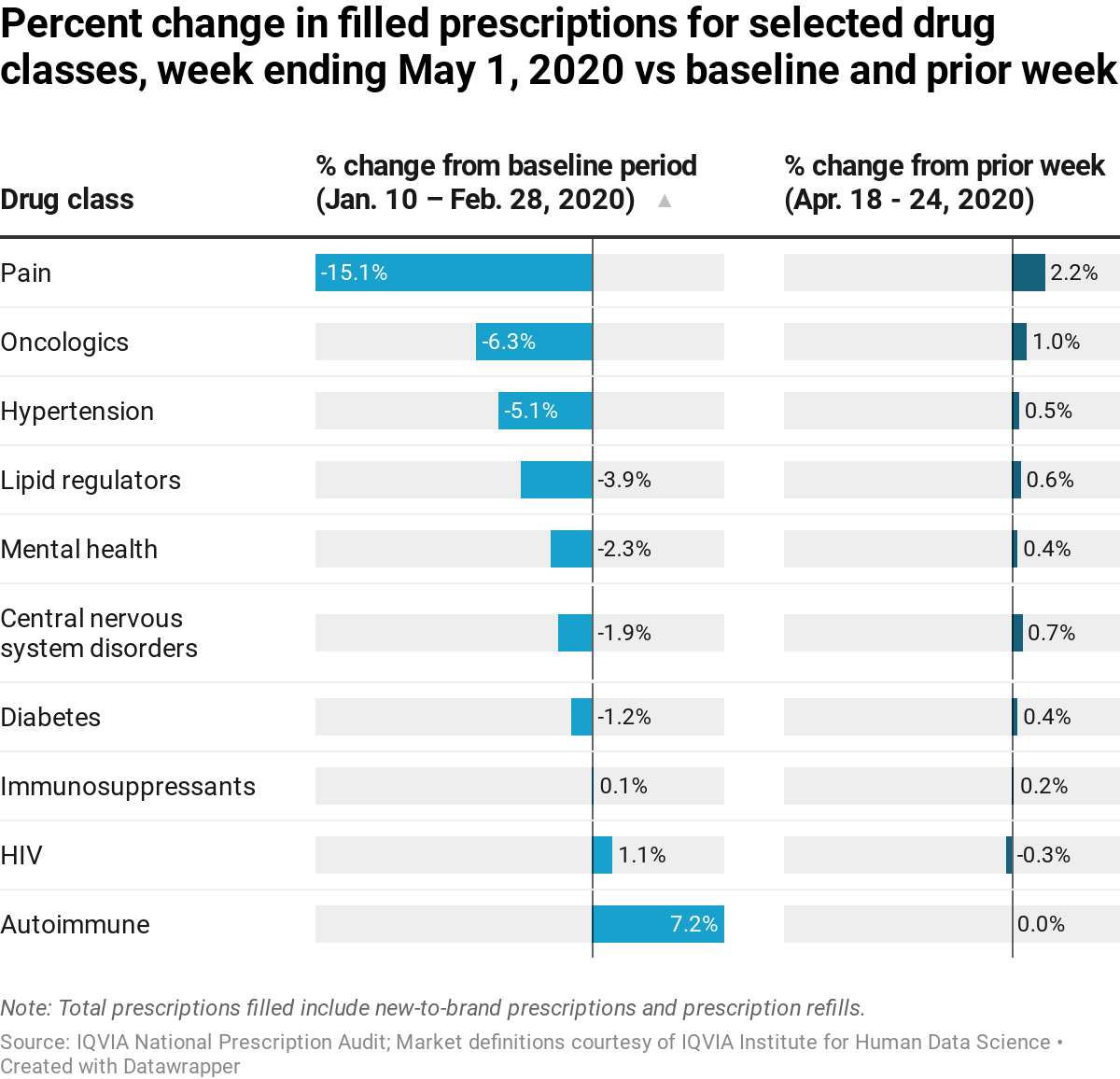 ---
The total number of prescriptions filled decreased early in the pandemic, according to an analysis by IQVIA. Much of the drop in prescription fills was among pain medication, oncologics, hypertension, and lipid regulators. Some of the drop in volume was likely due to patients stocking up with 90-day instead of 30-day prescription supplies, to avoid trips to the pharmacy that could lead to coronavirus exposure. Data released alongside the first quarter earnings call CVS Health suggested that prescription sales were relatively flat in April 2020 after converting 90-day prescriptions to the equivalent of three 30-day prescriptions. 
Prescription volume began rebounding in late April, with new-to-brand prescriptions growing for the first time since the beginning of social distancing measures, particularly for conditions commonly treated via telemedicine, according to the IQVIA analysis.
There was an abrupt drop in cancer screenings corresponding to the COVID-19 pandemic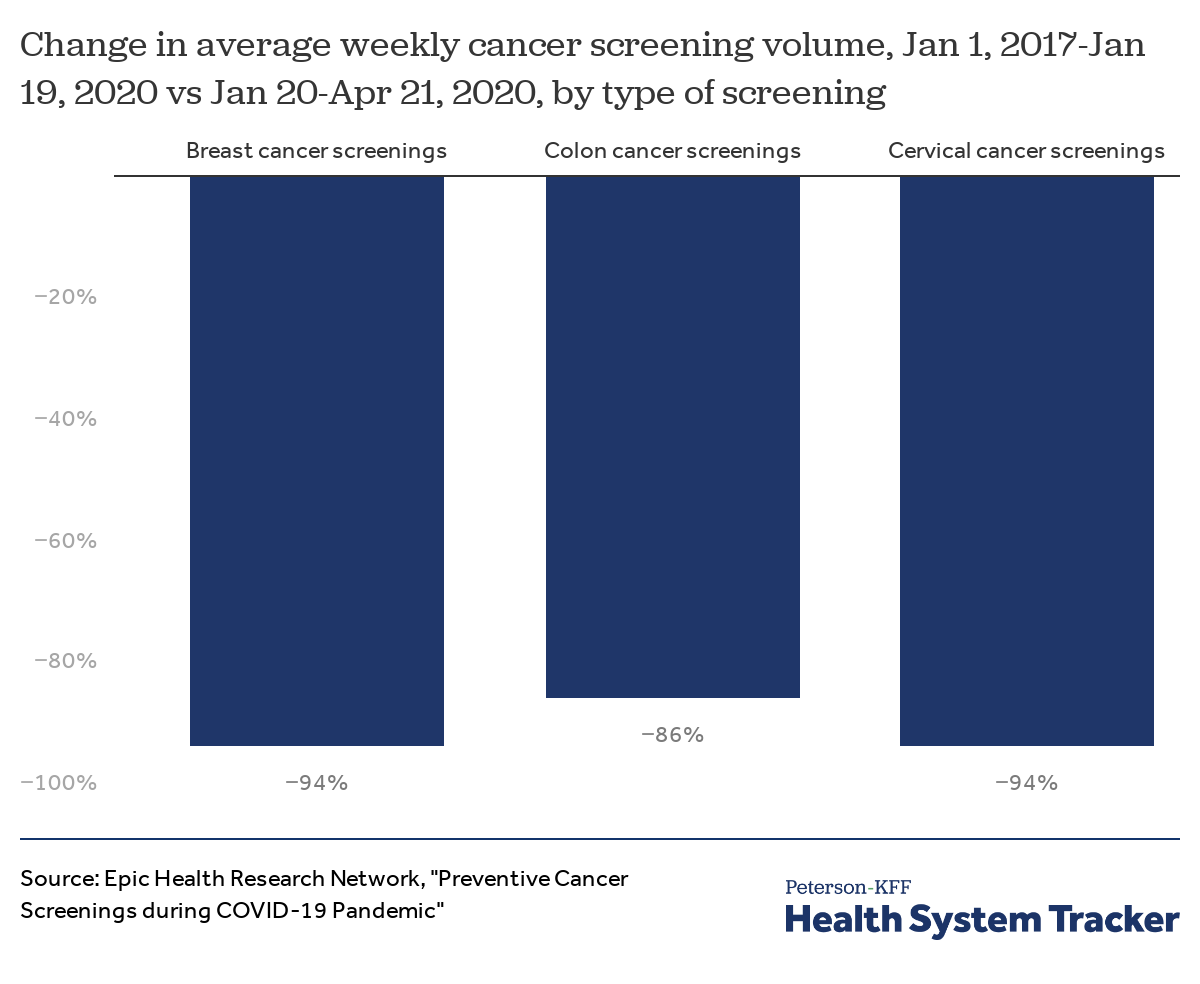 ---
As of late April, there had been a sharp drop in the number of cancer screenings relative to before the pandemic hit the United States, according to an analysis of electronic health records by Epic Health Research Network. According to the analysis, the average weekly screenings for breast, colon, and cervical cancers represent drops of 94%, 86%, and 94% relative to the averages before January 20, 2020. An analysis by IQVIA found that oncology visits for newly diagnosed cancer patients still lag relative to the pre-pandemic period but have begun to show signs of increasing in recent weeks through early May. 
Similarly, earlier IQVIA research showed that other preventive care may have been suffering during the pandemic. For example, patient visits for HIV dropped more than 60% in the early weeks of April, compared to January 10th through the end of February 2020. 
IQVIA also found that there was an initial drop in pediatric vaccinations in March, although there were signs parents were beginning to adhere to recommended vaccine schedules in late April. Meanwhile, adult vaccination rates remained lower than the pre-COVID baseline through at least early May. 
It is yet to be seen whether delayed preventive care or forgone chronic disease management may affect health status and healthcare costs in the long run.